Top Selling Sculptshe Products with Reviews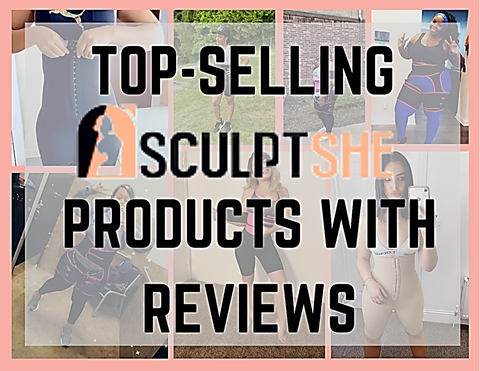 It's not easy to go out, meet people and do your work when you're not feeling your best. We've probably all come to a point where we want to stay home, snuggle up, and be consumed by thoughts of negativity and disdain for our physical image.
You are not alone. Insecurities, body image issues, and low self-esteem hold back many women. Don't let your negative thoughts manifest in your life.
Change the way you think, the way you see your body, and the way you dress with Sculptshe Official. Redefine how you wake up and get ready for the day by finding your most confident self, facing you in the mirror.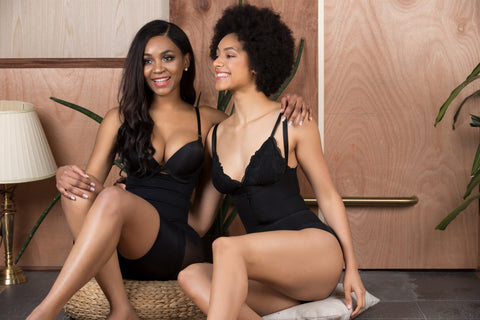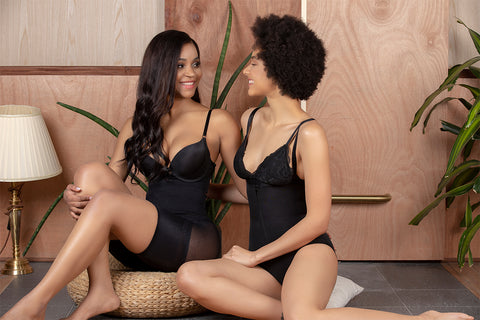 Have you ever wondered how best shapewear for women came about? Is it a mere garment to fulfill the vanity of women? You would be surprised to know that a lot of the recorded shapewear back in Ancient Cretan suggests that women used shapewear to create an outstanding balance between a woman's gentle and feminine curves and the physical masculinity of men. Back then, women would have their nipples out, and corsetry would push the bust upwards.
There have been many modifications to shapewear as time passed by, but what is most common among different versions of body shapers is the celebration of women's bodies and uplifting them to be the most attractive.
Do you want to know what a lot of women use to gear up for the day? It's not a secret that Sculptshe has best-selling body shapers that can alter the way you wear your clothes. Our brand, Sculptshe, focuses on providing women premium quality shapewear the clings like a second skin without compromising comfort. Whether it's ancient times or modern times, the goal remains the same: to celebrate women's bodies by providing inclusive body shapers so you can you're your best no matter what you wear!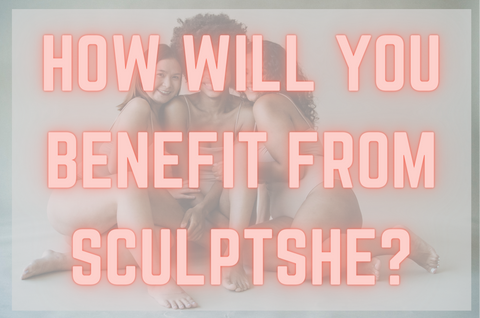 Sculptshe offers a lot of options, whether it's for sports, fitness, or casual wear. It`s because we`re a manufacturer ourselves that can cater to a lot of your needs to get your dream body. So, the real question is, how will you benefit from Sculptshe?
Weight Loss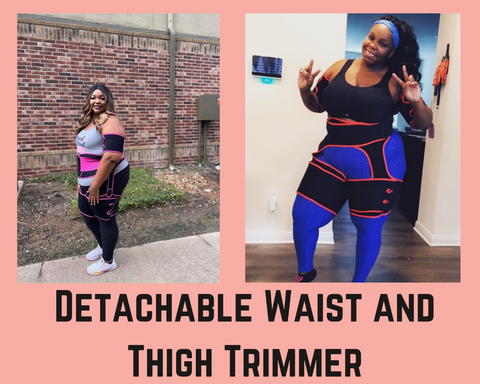 You can wear Sculptshe waist trainers and shapewear that can aid in weight loss. Though this statement may be controversial, hear us out. Wearing shapewear can reduce water weight and that lazy feeling of being bloated.
At the same time, if you wear shapewear like our waist and thigh trainer, you can have a garment to support your workout.
How? If you're doing squats, you can have a rounder butt due to the underbutt support this trainer has. When you're sweating while running on a treadmill, you'll perspire more in your waist area because of the latex or neoprene fabric.
Here`s what our customer said on our product reviews:
"Glad I Purchased!! I love my neoprene perspire wraps! I'm burning fat faster with the trimmer than I ever would've without them."
"This company has changed my life, finally there are suitable shape pants, shapewear.."
"This is the most comfortable underwear I ordered. Thank you for making such a great product!"
"Excellent service, I would recommend Sculptshe without hesitation!"
You have to understand that waist trainer or shapewear will help in weight loss if you use it properly and adjust your lifestyle habits to help you achieve a particular body.
Hourglass Figure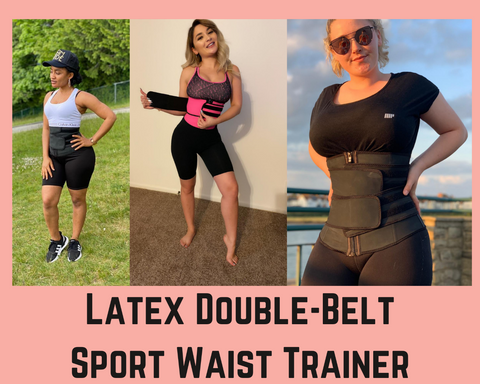 One of the benefits that we would all love to have; an hourglass body! We all know how difficult it is to lose weight, let alone have a figure that's different from your natural one.
However, it's possible to achieve an hourglass figure you wear a double-belt waist trainer to suck in your stomach. You can wear your waist cincher for a minimum of 8 hours a day for a consistent period for both temporary and permanent sexy figures.
Have you seen those shows where some women used a corset or waist trainer to achieve an astoundingly petite waist? Though you might not want a core that's too tiny to the point it'll disarrange our organs, it would be so lovely to have a few inches off of that waist size for a visibly feminine form.  
Wear Anything You Want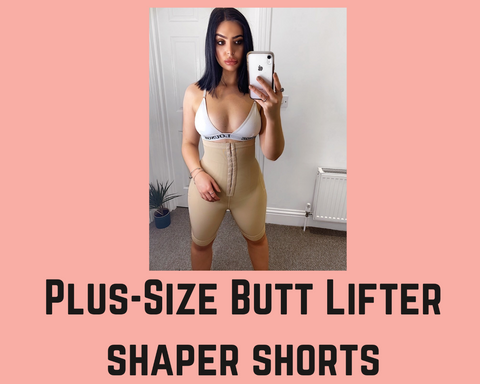 No matter your size, petite, average, or plus-size, all of us have a problem with bra fat, love handles, and belly rolls. We understand that though normal, these can trigger insecurities and dampen your self-esteem.
We never want you to feel that because you're beautiful and deserve to wear any dress or top you want without fat bulges hindering you. All our shapewear is there to help you with different types of clothing you may have.
One of our most popular body shapers is the plus-size butt lifter shaper shorts because of how they can make your butt look rounder and soft, which would look good underneath tight-fitting clothes or a pair of jeans.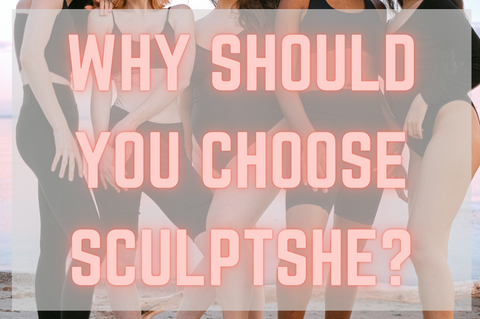 We know there are many shapewear brands out there. So why should you choose Sculptshe?
Sculptshe is a premier body shaper and waist trainer manufacturer. It simply means we aren't a reseller. We know how our products work, what materials they have, and how we can improve our products to suit your needs.
We have some of the latest technologies for producing top-grade body trainers to ensure quality, stretch, comfort, efficacy, and style. Besides all these, here are more reasons to start investing in high-quality shapewear from Sculptshe:
● Easy Website Navigation
● Fast Transaction
● Easy Return and Exchanges
● Friendly Customer Support
● Mission and Vision for Women Empowerment
Find out what actual customers have to say and how it has changed their life
1.COMFORTABLE WITH THE ADJUSTABLE HOOKS OF THE FULL BODYSUIT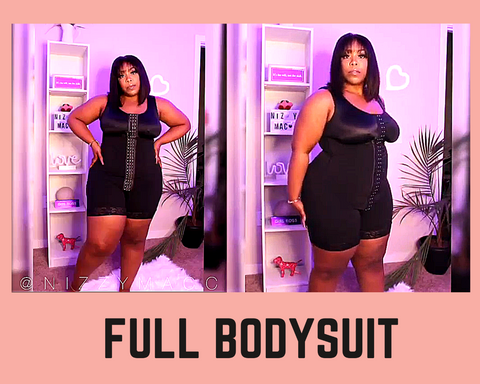 A lot of our customers love this specific shapewear because of its built-in bra. In addition, you can wear this with a fit and flare dress for a sexy yet cute look. Are you already imagining wearing a beautiful summer dress with a visible hourglass body? We would love to see you looking confidently beautiful in anything you wear!
It's very comforting to know that you wouldn't have to buy new shapewear even if you lose a couple of pounds. It's easy to wear too!
Our full-body suit is a compression garment with adjustable hooks and an open-crotch design. Its wide straps can provide the necessary support to ensure that your body is upright and isn't sagging.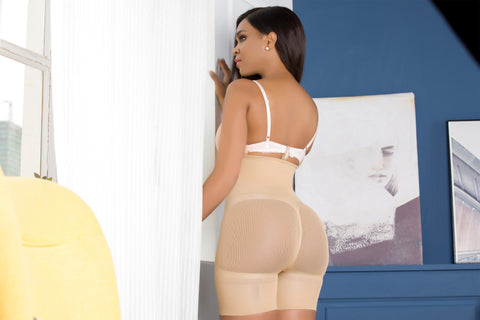 Here are the top features that make this compression body shaper so popular among our customers:
● Upper Body Support
● Three rows of hook-and-eyes for adjustment and closure.
● Highly elastic fabric that conforms to the shape of the body.
● Underbust Support
● Butt Lifter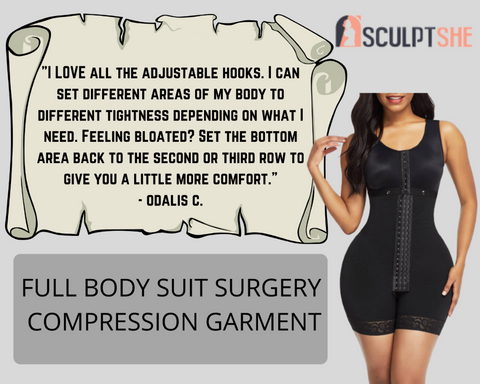 2.THE ELASTIC FABRIC IS PERFECT FOR THE BELLY WITH OUR ABDOMINAL BOARD
What is an abdominal board? It's a compression board that you can add to your waist training routine. You can often wear it underneath your body shaper.
It can offer an excellent sculpting effect around your tummy area if you need an extra boost of support to ensure no belly rolls are showing.
What makes it even better is that, because of its skin-friendly and elastic fabric, it's perfect for those who've had tummy tuck or surgery because it can keep the stomach together without any irritation.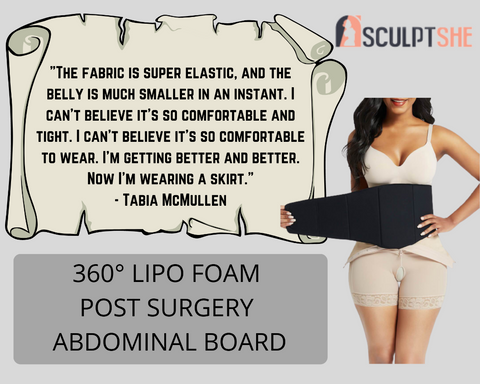 3.SCULPTSHE'S LACE HEM BODY SHAPER HOLDS THE STOMACH IN WELL
When it comes to body shaping, what you need is something that'll keep your tummy tucked in. It's one of the driving factors why women buy shapewear.
You'll know if a bodysuit is effective if it conforms to your stomach area and works by giving you're a slimmer waist without fat rolls.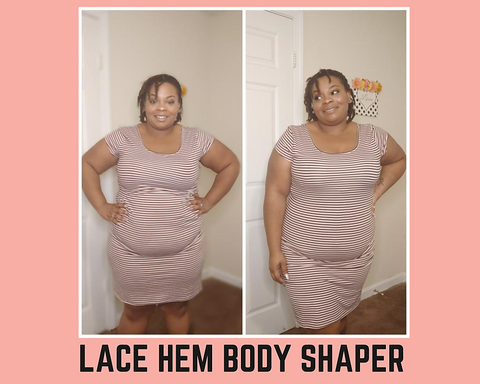 Our Lace Hem Body Shaper has a good reputation among our customers for being able to "hold the stomach without bulging."
It's because of the high elastic mesh in the midsection of our shapewear. It has a side zipper as well to prevent people from noticing that you are wearing shapewear. Instead, your body will look as if you're not wearing one with its effortlessly seamless design.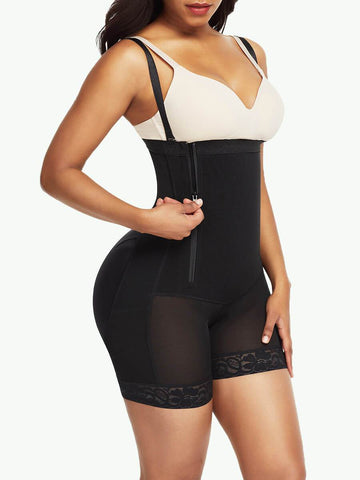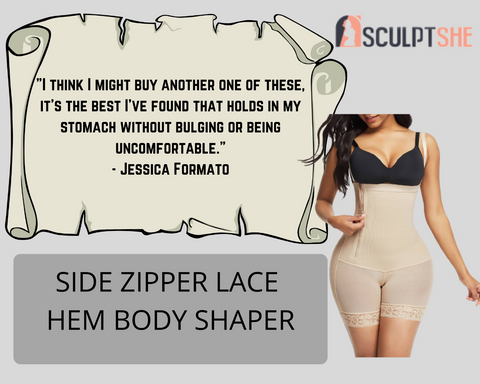 A similar body shaper to this is our detachable straps postsurgical body shaper that is well-loved as well. The only difference from the first shapewear is where the location of the zipper is since this one is in front.
It is a picture by Ms. Leah R., who posted it on our Facebook page. Here's what she has to say:
"Sculptshe shapewear is super comfortable and super effective! Love wearing this shapewear!!"
"The product is well-made and the size meets the requirements. It really provides a lot of convenience for my weight loss."
"I have purchased several items, and each order is top-notch, beautifully packaged, and fast! Can't be happier! Thank you for your excellent service!"
"I love all your garments the make me feel more secure in my self..I love them!"
If you want to know more about what they think of Sculptshe, you can head over to Sculpshe's Official Facebook Page for honest customer feedback.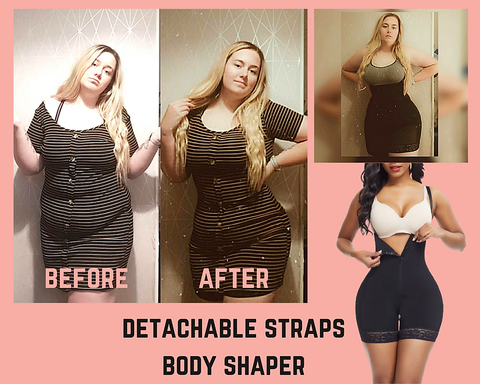 4.EXPECT GOOD MATERIAL FROM SCULPTSHE'S BUTT LIFTER WITH TUMMY CONTROL
It's not easy to have it all, especially for a body-shaping garment. Even if you do get all the features you're looking for, it'll probably cost a hefty amount.
Are you looking for a waist cincher that has a butt-lifting effect? Look no further because our tummy control and butt lifter shapewear have straps under the butt, so even if you're standing or sitting, the straps serve as support to ensure that your butt stays round and firm.
If you have pretty big bottoms but need some help with supporting them, the straps under the butt are adjustable based on three levels of booty lift so you can adjust it accordingly, and nobody will notice you're wearing it! You don't have to get butt pads that might look unnatural.
5.PERFECT COMPRESSION FOR A WEDDING EVENT
Weddings, birthdays, anniversaries, graduation, and celebratory parties are all a part of one's life. Of course, taking pictures and videos and posting them on social media has become the norm.
Many of us would want to look back and appreciate these precious memories without feeling insecure about what we used to wear or what our bodies used to look like. It would be a boost to our self-esteem, no matter our age, to know that we've always done our best to take care of our bodies.
Finding perfect shapewear that can always be our "savior" when it comes to special events like a wedding is quite rare, especially when a "perfect product" is subjective.
However, what if we tell you that there's such thing as "perfect" compression? That's right. Having just enough pressure on your body, so you won't have to worry about rolls and bulges, would be so ideal.
What makes a shapewear ideal? First, you should probably look for these features:
Seamless fit without bulging
Soft, Breathable, and skin-friendly fabric
Adjustable straps
Highly elastic fabric excellent for tummy compression
Innovative Mesh with mid-thigh shaper
A full-body design for a posture corrector
Easy to wear
Supports different layers of undergarments
Seems impossible to find? Well, you're looking at our high-waisted seamless body shaper that our customers love the most!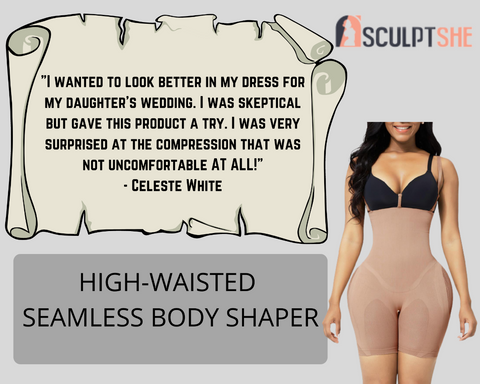 6.HOW WOULD YOU DESCRIBE AN APPEALING FIGURE? FIND OUT WITH OUR UNDERBUST BODYSUIT SHAPER
An appealing figure is, again, subjective. Some people might find petite women appealing, while others find curvaceous women sexy. There are different opinions people can formulate, but there's only one opinion that matters most-yours!
You don't have to please anyone by dressing a certain way or getting a specific body figure to feel attractive. Instead, you have to understand that you should love and appreciate what you see when you look in front of the mirror.
We know that you're working so hard to get the body of your dreams. And we want to help you feel and look good before, during, and after attaining your dream body! So don't feel discouraged when you look in the mirror and see muffin tops, bra fat, and tummy rolls. These all make up your entirety!
Getting help and using a bodysuit that will shape your body can prevent negative thoughts from seeping into your brain. Don't pollute your mind with such thoughts that will only hinder the progress of your fitness journey.
Our bodysuit has a three-layer design for extra tummy compression that will keep you looking like the sexy and beautiful person you are! Ladies most especially love its fit and how easy it is to wear under dresses and clothes.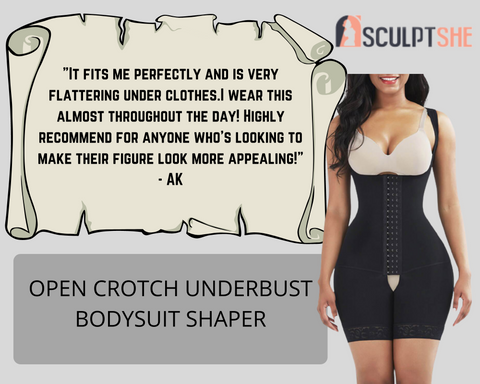 7.GIVE OUR LATEX DOUBLE-BELT WAIST VEST SHAPER A CHANCE FOR YOUR WEIGHT LOSS JOURNEY
Who would pass up the chance to lose weight even while just wearing a sports vest? Surely it wouldn't be us! So, technically speaking, you won't lose weight by just sitting there and wearing a random fitness vest.
We're talking about being physically active while wearing our waist trainer sports vest with three belts.
The real question you can ask is, "How can a Sculptshe waist trainer vest help me lose weight?"
There are many ways how but here are some:
● Wear your waist trainer vest while doing chores at home. It supports your back, lifts your busts, and cinches the waist by the three-belts compression.
● Do cardio exercises while wearing our waist trainer vest to perspire more because of the additional layer of clothing you wear. Do you know how you perspire a lot if you wear a thick sweater, even during summer? Like with our vest, it traps the heat in between your skin and the fabric, causing you to perspire more and lose calories.
● Regular waist trainer can temporarily and permanently alter your waist size. For long-term and regular use, you can mold your waist in the way you want by having a set schedule of constant waist trainer usage. Like with any other "mold," it'll slowly alter the form of your body.
Who wouldn't want to lose an inch off your waist, especially if you've wanted to put on that tight-fitting dress? Read Ms. Nicole B.'s review about our vest: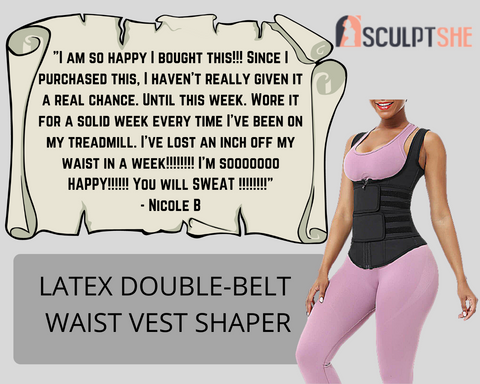 8.FIND THE BEST SHAPER FOR YOUR BODY
Every shapewear is different and will cater to different body types. What one woman might need may not be what fits your body goals. It's why it's so important to list down what your body needs, so you can then look for a body shaper that can fulfill those needs. How will you find the feature you're looking for? Here's a guide through questions that you can ask yourself:
● Do you want bust support?
● Do you need a posture corrector?
● What's your ideal compression level?
● How many inches off of your waist do you want to lose?
● Do you need butt-lifting?
● Will you use it every day?
● Do you need wide straps that can carry and support your frame?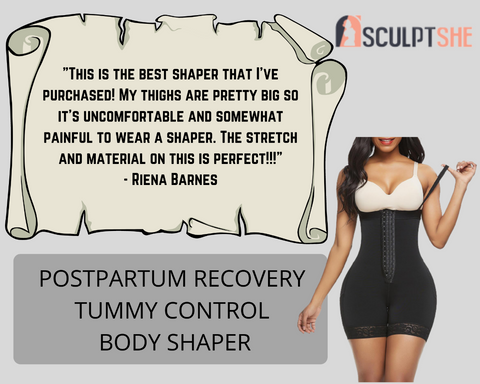 These are fundamental questions you need to answer so you can find what's best for you. Then, of course, you can take the advice and reviews of other women because they would be helpful for you to weigh your options. But, ultimately, you should choose your shapewear based on if the product can help you meet the body you're going after.
For one of our lovely reviewers, she found that our postpartum recovery tummy control is the best one for her. Why? Because what mattered most to her is her comfort while wearing a body shaper that aims to support her body.
Our recovery stomach compressor is highly perfect for those who want to get that curvy figure. Just look at one of our clients` gorgeous figures and noticeable curves: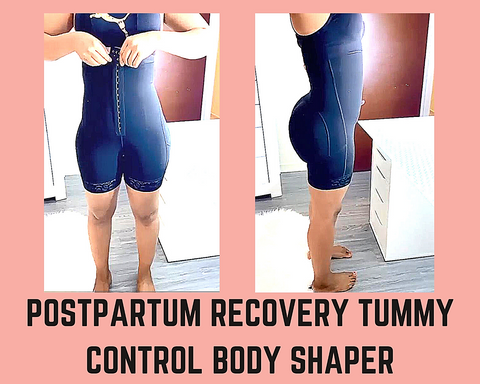 9.GET THE CURVES YOU WANT WITH A FULL COVERAGE POSTPARTUM BODYSUIT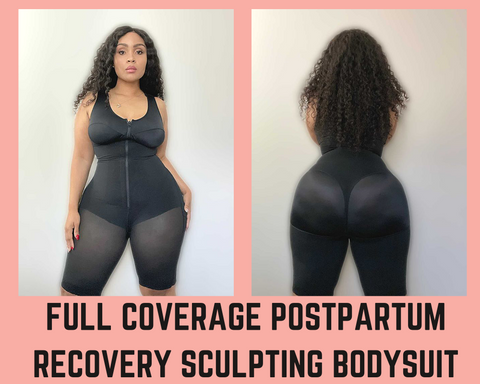 Are you tired of breastfeeding and being up all night, feeling down and disoriented with the new chapter of your life as a mom? Then, keep your life together by starting to take care of your body with a recovery body-sculpting bodysuit that can support your waist, bust, butt, thighs, and aching hips!
Being a mother while working isn't the end of it all. On the contrary, it's just beginning to become even more fabulous! So it's only natural you would feel concerned over your body, primarily when you used to have a round belly in front of you, and now it seems like it's still there but less hard.
Even if you can't work out your body too much yet, you can ask your doctor to wear body sculpting shapewear bodysuits that may even help your body recover faster.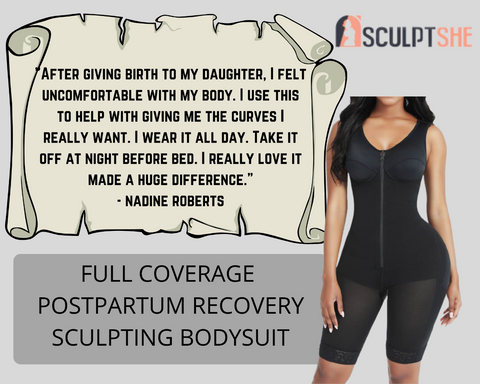 Our customer, who's a mother, has found hope with our full coverage postpartum recovery sculpting bodysuit to make her feel more comfortable after giving birth.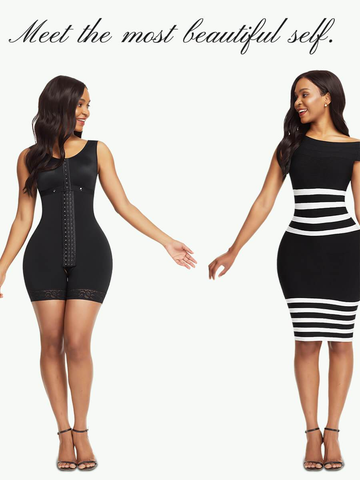 These best-selling Sculptshe products and reviews are testimonies that you can take care of your body no matter your age and stage in life. Remember that the best body shaper is one that your body needs. Loving yourself by putting your money into self-care and ensuring that you will never lose self-confidence is an investment that you will never regret!