Why Waist Trainers are More Popular
Why Waist Trainers are More Popular
In the past years, waist trainers have become very popular. They are a great way to get your waist looking amazing, without really having to go under the knife. But let's be honest, the idea of using one to get a slimmer waist and hourglass figure its definitively not something new.
Women used corsets to achieve smaller waist probably since the 1500. Lately, definitively celebrities and influencers have made them more popular and with the influence, more and more people get one to achieve their goals.
You can get amazing waist trainers from Sculpshe. They are a brand that focuses on women's shaperwear and also activewear. Their products are made not only with the best fabrics but also with the best technology to help you reach your individual needs and goals.
There are benefits you can get from trying their shapewear:
For starters, their main goals is for you to live a stress-free life, and they want to achieve that by helping you being carefree when it comes to styling yourself and of course, when you move.
Their products are made with top grade materials, that not only are non-irritable and skin friendly, they're also breathable and elastic. And they have adjustable straps that will help you achieve real comfort. Their closures, Velcro and zippers are very durable and they prevent clothing mishaps.
And while they help you achieving the hourglass figure you always wanted and of course dressing up as stylish as you want and not looking like a tamal, they're also high quality and one of the most affordable around.
If you're looking for the best shapewear for tummy, I would highly recommend you check them out, since they have a lot of options for everyone.
Most women, for sure, use some kind of shapewear to hide their tummies, if they have to wear tight dresses for special occasions, and also on their day to day, depending on what they're wearing. Who hasn't had a date and wore something under their clothes just to hide the tummy? I'm sure I've done it several times.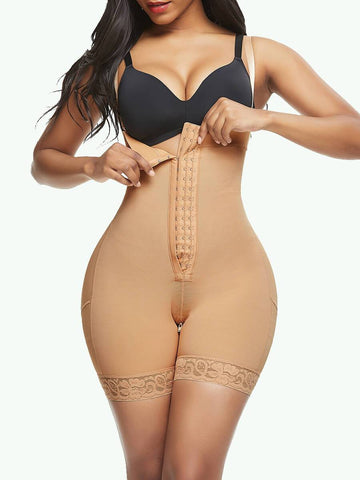 Waist trainers and shapewear in general, definitively help women, and sometimes men too, to re-gain a bit of their confidence and look their best. But it also important to remind us all that, shapewear and waist trainers are not the only solution. If you want to see a change, it's important to start having a healthier life, whether if it is eating healthy or going for a 30 minute's walk. It's the simple steps and consistency that will take us where we want to be.
Also a double belt waist trainer will be an amazing addition to your workout routine if you're already living that healthy life. They would give you a firm compression, while cinching your waist at least 1-3 inches. Isn't that great? This way you can achieve celebrities and influencers amazing hourglass figures. Of course, they're also made with materials like neoprene, spandex, lycra, nylon and rayor, so you feel comfortable while achieving your goals.