Waist Trainers Erases Belly Fats
Waist Trainers Erases Belly Fats 
One of each woman's struggles is belly fat, and it is the source of insecurity that needs to be addressed, or else it will worsen. It accumulates in the most vulnerable areas and is noticeable when wearing a tight-fitting dress and jeans.
It is hard to erase because it grows along with what you eat and do. So now the question is, "how-to completely eradicate belly fats and assure that they will never come back?"
These complicated questions can be answered with a simple solution. First, you need to have a waist trainer! Well, it is not a magic item that eliminates your belly fats after wearing it; you need to have a step-by-step procedure to eradicate them for good completely.
Now, let us go deeper on why waist trainers can help you remove those belly fats!
YOU NEED TO ACCEPT THE FACT
Some women are in denial that their belly fats are nauseous already. Instead, they need to accept that it is getting in their way in dressing the way they want to. When you know that you need help, the urge to make things better come right away!
IT IS WHEN YOU KNOW YOU NEED A WAIST TRAINER
All women have different body shapes and sizes, so as their belly fats. So when looking for the correct fitting waist trainer, you need to know the measurement of your waist to find the proper measure of the waist trainer. Get a tape measure and compare it to the size and fitting table guide before ordering your waist trainer.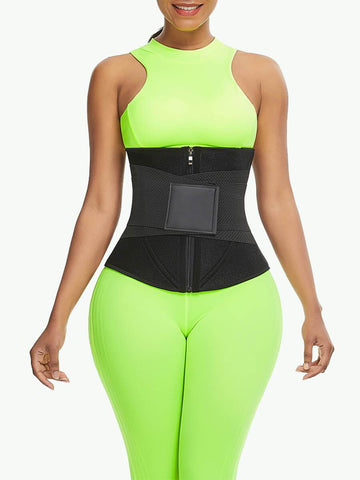 Sculptshe Neoprene Sweat Embossed Waist Trainer
Next, you need to consider the amount of compression you want for your waist. It includes your own body's capacity to endure the waist trainer for a said time. There are waist trainers with two belts and three belts, so keep in mind that the number of belts represent its cinching prowess.
For example, this neoprene three belt waist trainer, with steel bone for better cinching and shaping and zipper lock.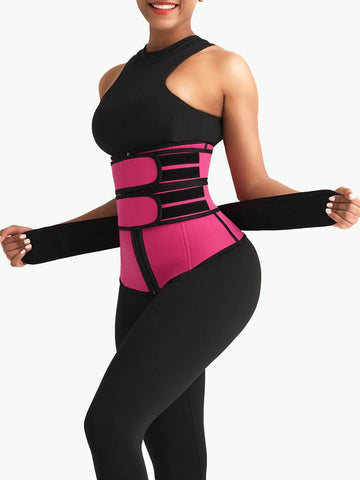 Sculptshe Neoprene Three Belt Big Plus Waist Trainer
HOW DO YOU WANT TO USE YOUR WAIST TRAINER
There are lots of ways on how you can use your waist trainer. Depending on how you'll do it, it results in a much prominent outcome.
You can simply wear your waist and thigh trainer under your dress while doing your job or chores simultaneously. You can have it while working at the office or chilling inside your home on the sofa. Still, you will sweat your body's water weight because of the thermogenic effect it has.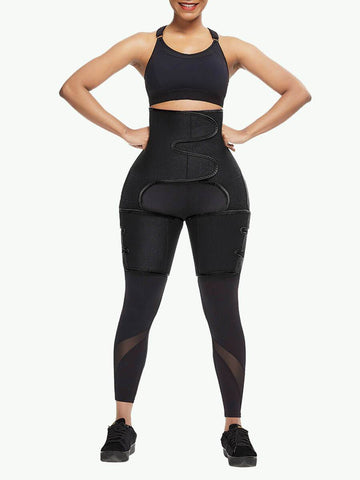 Sculptshe 3-In-1 Waist Thigh Eraser Booty Sculptor
WHILE DOING YOUR REGULAR EXERCISES
Whether you want to hit the gym, do your yoga, or jog outside, still produce good results in losing your belly fat. Nonetheless, it is much better than just wearing your waist trainer leisurely, as more sweat will be taken out of your body while exercising with a waist trainer.
Having a waist trainer and activity that can stimulate more sweat is ideal for better body shaping. 
RIGHT MINDSET IN WEARING A WAIST TRAINER
Of course, you want to see the results of you wearing a waist trainer into your belly fat right away. But all success needs patience, dedication, and perseverance. It means that you need to continue wearing a waist trainer no matter how trivial the changes are with your belly fats.
Also, you need to understand that you have to add effort in losing your belly fat by changing your lifestyle that involves regular exercise and a strict balanced diet.
Learning not to give up on losing your belly fat no matter how long it will take is the correct mindset that you should always wear!
FOCUS ON YOUR GOAL!
Is this the same image that you've printed out of your mind in continuous dedication with your waist trainer? If so, then you got to focus on achieving this goal no matter what the circumstances. Remember that all your labor in losing your belly fat will never be in vain.
Let us all be thankful that we can always rely on a waist trainer and full body compression garment to achieve a healthier and sexier body shape!