The Perfect Shapewear for Your Wedding Day: Which One To Choose
The Perfect Shapewear for Your Wedding Day: Which One To Choose
We finally share the best leotard container for your wedding dress! Let's be honest, everyone wants to look their best on our wedding day. Maybe you've even worked out with our waist trainer wrap, and want to show off your body with all your pride! At the same time, you want to be comfortable, be able to go wild, and maybe even eat the food you paid for! So today we are sharing some amazing options of the shapewear that match well with different styles of wedding dresses.
Backless Thong Bodysuit
Perhaps the biggest scruple women have in purchasing a backless wedding dress is that they don't feel supported in the front of the dress. We will change your life and drive you crazy! We have found some great options for modeling underwear to wear under your backless wedding dress.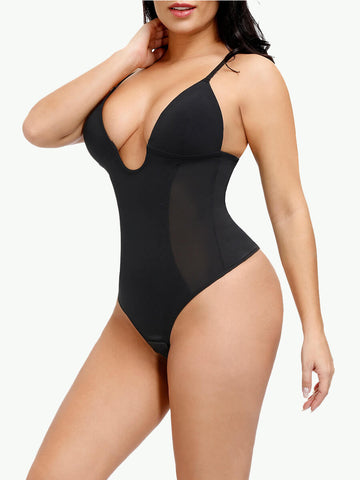 It's one of the best body shapers ever invented: the shaping bodysuit with low-cut thong. This amazing bodysuit is the solution to all your wedding dress problems. With low neckline in the front so it fits different styles of wedding dresses. It is also a thong style so you don't see panty lines through your wedding dress. The best part? It holds your tummy and will make you feel awesome in your wedding dress! You can also remove the straps to make the bodysuit strapless if they will be visible in your dress. You can wear this bodysuit with so many different clothing styles.
Adjustable Straps Tummy Control Thong Bodysuit

We have some great options for extra support underneath your V-neck wedding dress. While some women may feel intimidated by the idea of a restrained body with no push-ups, there are plenty of amazing options. If you're looking for more support in your dress but it has a low back and V-neck, meet your new best friend! This bodysuit is unique in that it lifts the breasts up instead of pulling them to the side like most sticky bodysuits. This container bodysuit would work for a V-neck wedding dress with wide straps. This would work well for a dress where you want the neckline pulled up. Be sure to angle the straps to match the angle of the straps on your wedding dress.
High Waisted Shaper Panty Brief
These high waisted panties are invisible, they are also a great option for a variety of outfits where you can't wear anything too high waisted under the dress. They still provide the tummy control you are looking for and the delicate material will prevent panty lines from seeing through your dress.
Slimming Belly Seamless Brief Panty

This slimming belly seamless brief panty is really cool! It will provide you with fantastic life-long support and hide your navel.
Shaper Shorts With Bra
Additionally, we believe a wider coverage option is great for wedding dresses. Shaping garments like the belly shaper shorts are great because the lines of the shaping garment will not be visible, as they will extend into an area where your dress does not fit your body.
High Waisted Seamless Body Shaper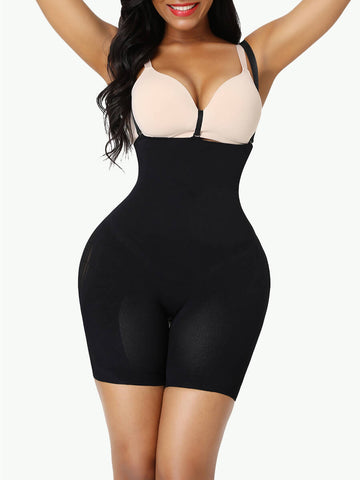 If you are worried about the seam at the top of your dress, this long open bust body shaper offers maximum coverage. This model has a breathable fabric so don't worry if it's too hot!
Open-Bust Mid-Thigh Bodysuit
For even more coverage, we recommend this longer shaping bodysuit. This shaping underwear will help you connect everything under your wedding dress. It also has a low front and lower back which is always a plus!
PRO TIP:
Slip a cotton ball inside the navel, then apply a large patch, then put on the shaping underwear to prevent the navel from seeing inside through the dress!
We hope this post helped you choose what to wear under your wedding dress!