The Best Body Shaper for Exercise Worth Buying
The Best Body Shaper for Exercise Worth Buying
Many Women want to exercise and benefit with the Ideal Body, Toned Figure, and desired shape, but in reality, it remains a  burning dream in most life cases. 
Many housewives are so indulged in their daily work that they forget to take time for themselves and Workout to be in the best shape and body posture. 
Therefore, everyone is looking for magic and searching for the best alternative to be in the perfect and sizzling body shape without working too hard and getting the results in no time. 
Don't worry, Guys; we have Sculptshe Body shaper that burns two times fat whenever you Workout and instantly gives you your ideal Figure the moment you wear it. 
You can wear Sculptshe Body shaper, Workout, burn 2x fat, wear your favorite dress and be in the Your Desired Shape all over your Life. 
Sculptshe Body Shaper is so Efficient and comforting that they won't feel like wearing anything, and the results will still be visible. 
Sculptshe has changed the lives of many womens, dreaming of achieving the ideal Figure all over their Life. 
Today I'll share Sculptshe Best body shaper for Exercise worth Buying. 
Are you tired and Sick of your tummy going out and forward, ruining all your style and versatility? Don't worry Sculptshe High Waist Tummy Control Open Crotch Body Shaper is there to take care of it and provide instant results. 
The High Waist Best Body Shaper smoothes your stomach fat, lifts your butt, and vanishes all your love handles. 
Pros
Open Crotch Design gives your easy access to toilet without any harassment
Hook And Eye Closure Belly Strap efficiently works to eliminate extra fat and smoothens your tummy
Provides you extra care and comfort with  Ultra Soft Nylon-spandex blend all day long 
Leg Openings Has lace trim that promotes ventilation, making you feel calm and relaxed 
37 Wide Rubber Band on the Waist Area prevents dig and squeeze, with two plastic bones on the size to maintain the shape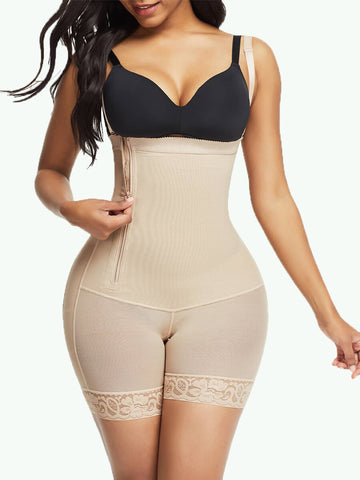 Are you looking for all-around body shaping and concerned about the shape of Waist, Hips, Thighs? Then Trust Sculptshe side zipper shapewear that is worth your time and investment.
The Body Shaper Shapes your all-round body, including waist, hips, Thighs. It also helps mommies with speedy recovery after their post-surgery and postpartum.  
Pros 
It acts as a natural Butt Lifter, guaranteeing visible results the moment you put it on
Removable and Adjustable Straps for proper fit and Body Control 
Side Zipper that makes it Invisible underneath the clothes, you can flaunt your body Confidently, keeping this as your secret 
Zipper On Crotch Available for go toilet and getting done in peace without any stress of putting it on and off
You Can Use it for Years as the product is high quality and long-lasting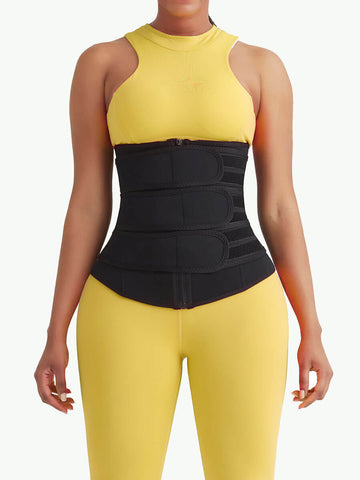 Are you irregular with your workouts and looking for a catalyst to speed up your fat-burning process? Then Sculptshe Neoprene Three Belt Big Plus Waist Trainer is ideal for your needs and the best body shaper for exercise. 
The Neoprene Three Belt Big Plus Waist Trainer with Adjustable Straps makes you lose extra fat, also sheds off your excess water weight, and gives you a sexy and slimmer waistline. 
Pros 
Three Belt Design Control And Manages your Abdomen and waist 
7 Steel Bones maintains your body posture and provides an ideal shaping effect 
Latex Core helps with maintaining shape and empowering weight loss
It fits perfect for an hourglass shape and also goes well with normal torso body types 
It Makes your workout Sessions more intense and rewarding 
Sculptshe Neoprene Waist Shaper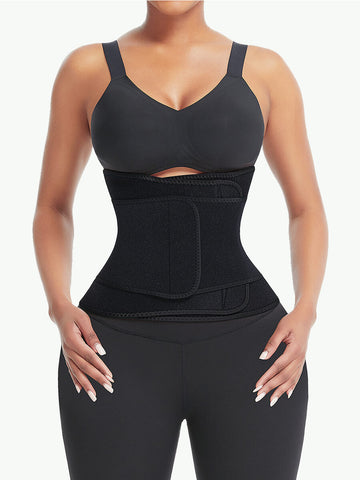 A woman's waistline is the most appealing and attractive part of the feminine body, in case any extra fat buildup in the region spoils the beauty and sexiness. 
Therefore, these increasing fat issues have led to the introduction of Sculptshe Neoprene Waist Shaper with sticker steel bones that slims your midriff, create a smooth figure, and maintain your impression whenever or wherever you reach out. 
Pros 
Powerful Sticker Attachs Firmly holds the body without any issue of tearing off 
Red Edging Design gives you more versatility and spark 
Six Steel Bones easily shapes your waist and gives instant results with a cinch
It is made with high-quality materials that provide extra comfort, like Fabric that ensures soft, elastic, and sweaty 
External Waist Belt Design strengthens your waist and maintains your body posture.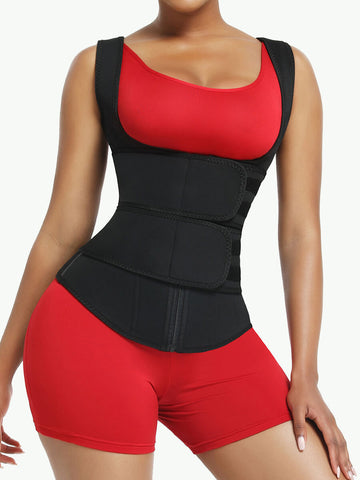 The Sculptshe Neoprene Double Belts Waist  Trainer Works Efficiently to make your sweat more providing back support also makes you work out more focused and rewarding.  
The Neoprene Double Belts maintain your body posture while exercising and provide clear and precise body movements. It is a must-have product for women who are giving their all to achieving their daily Workouts goals. 
Pros 
The Double Belts holds you firm, compresses tummy, and favors you with ideal shape 
It feels comfortable to wear and deliver your energy into workouts 
Manufacturing Materials are high quality that ensures long-lasting of the product 
U-neck Design gives you the curves and lifts your butt, making you go sexy and bold 
It Makes you feel your core strength and stands you tall and straight