Shapewear for Wedding Dress
Shapewear for Wedding Dress
Every woman might have planned out their wedding day even before meeting their groom. Yes, the wedding day is one of the most memorable occasions for a woman, and you may have in mind the wedding dress you are going to wear on your day.
Wearing a wedding dress is a once in a lifetime moment, so preparing for the big day is what most bride-to-be`s love to do. Working out, eating right, and wearing waist trainers or shapewear are some of the things that ought to be done. However, when it comes to shapewear, you need to be cautious and consider these suggestions.
FOR TIGHT FITTING
A tight-fitting dress is always difficult to wear, especially when you`re not fully confident with your body. Hence, a shaper body will boost your self-esteem to go for that gorgeous tight-fitting wedding gown. You can achieve that if you wear a shapewear piece that will cover your unnecessary rolls and hide the linings of your skin.
Sculptshe shapewear offers a range of seamless shapewear, making it easy for you to fit your body in a bodycon wedding dress without welcoming any possible inconveniences.

FOR PLUNGING NECKLINE
There are wedding dresses that reveal your daring side, and at the end of the day, it will always be your choice to nail that attire.
Upgrade your wedding style by picking a daring yet stunning wedding dress that you can wear with a backless shapewear with plunging neckline. This shapewear also promises that you will be the head-turner of that occasion. You do not have to worry about your cellulite and unwanted rolls; this shapewear covers them.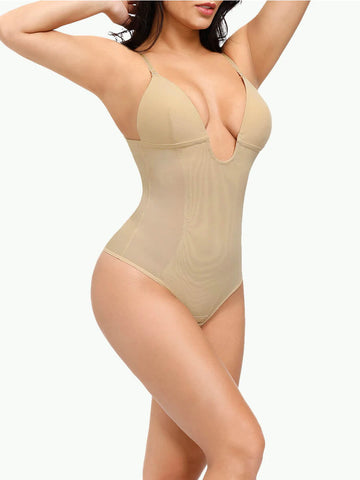 Sculptshe Backless Thong Bodysuit
FOR TUBED DRESS
Slimmer waist with back support is achievable with Sculptshe`s waist trainer belts and smoothing shaper that will allow you to wear strapless dresses. Waist trainer belts are awesome when it comes to creating the illusion of an hourglass shape. However, if you do not wish for waist trainers or you feel they are bulky for your thin-fabric wedding dress, you can always go with a high-waist smoothing shaper.
Sculptshe`s High Waist Seamless Smoothing Shaper features multiple hooks for next level compression. This is a customer-favorite because it smoothens muffin tops so you can nail your tubed wedding dress. If your dress has sleeves, you can also utilize its straps.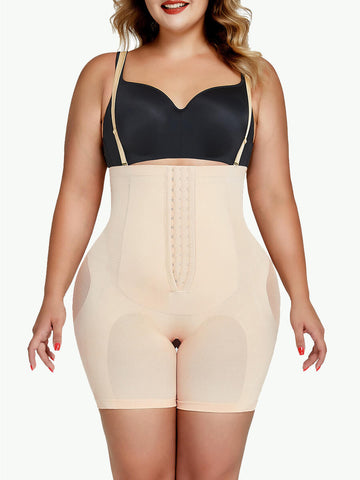 Sculptshe High Waist Seamless Smoothing Shaper
VINTAGE DRESS
If you are a fan of vintage things or anything retro, this laced bodysuit shapewear is right. It gives you a comfortable feeling from your chest down to your whole body. Thanks to its smooth fabric, you will spare yourself from itch and other skin irritation. Also, the vintage feels of the lace can add to the sophistication of your wedding.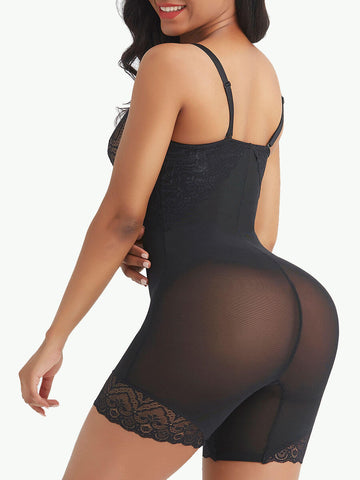 Sculptshe Open Crotch Lace Bodysuit Shapewear
SIMPLE WHITE
Some women do not want to go extravagant in their wedding dresses. They want to keep it simple. If that is also the case with you, you may want to emphasize your body assets, so your figure will be the one to speak about your style and your elegance.
This shapewear from Sculptshe features a side zipper for extra glam along with laced designs on the legs to feel more feminine as you wear it. It also gives an excellent boost to your bust.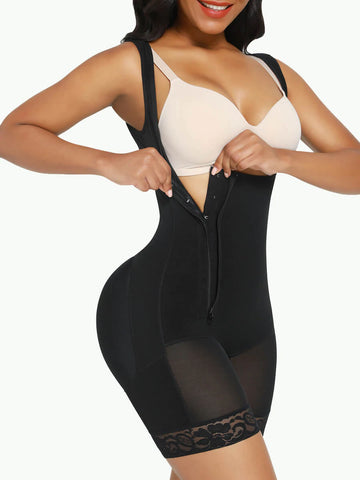 Sculptshe Full Body Fajas With Side Zipper
FOR MERMAID DRESS
Mermaid dresses are undoubtedly one of the sexiest and figure-flattering type of wedding dresses. It's all about embodying your feminine curves.
Match a mermaid dress with a shapewear that aims to enhance the hips, and lift the butt to further empower your womanly slopes. Perfect not just for everyday wear but for special occasion like a wedding, Sculptshe's Hip Enhancer with Tummy Control is the ultimate hourglass shaper. Featuring a three-layer fabric, you can feel at ease to eat at the banquet you have in your wedding, because of its tight tummy slimming effect. It's a figure-flattering shaper that will bring out the best of your curves.

Sculptshe Push Up Butt Lifter Body Shaper
Regardless whether you`re petite, average or plus-size, your well-loved curves and slopes will be highlighted, and not hidden with the right shaper. Sculptshe`s Push Up Butt Lifter will specifically lift your butt for a well-proportioned figure. Not only that, the durable tummy compression will cinch your waist for maximum hourglass body shaping.
Your wedding doesn`t solely rely on the looks of your wedding dress. However, it can be nerve-wracking knowing that your guests will be looking at you and your dress since you and your partner are the stars of the event. Wearing your dream dress, at the same time looking stunning in it, is every bride`s goal. Hence, choosing only the best shapewear that is appropriate to your body and size is the initial step to looking your most confident and beautiful self in your wedding.