Do You Know How to Choose Plus Size Waist Trainer
Do You Know How to Choose Plus Size Waist Trainer
Nowadays, having a small waist is probably most women's dream around the world, and it doesn't matter if you're what would be considered skinny or if you are plus size. There are also a lot of tools that will promise you to achieve a smaller waist, obviously besides healthy eating and working out at the gym. One of these tools is the famous waist trainer.
It really isn't a modern invention; it is actually what we could consider a classic piece and it has been worn for centuries by women around the world. Back in the days, they used to be considered very uncomfortable but they're not anymore, with the time, corsets have evolved and so have their designs.
Even if they have evolved, they have maintained the efficiency they have to reduce your waist and they've also become comfortable to wear in comparison with what women in the past used to wear. Now if you are looking for a plus size waist trainer, you are in the right place, as we will tell you what to consider for when you want to get one.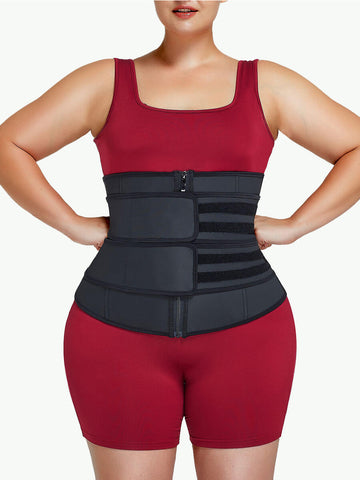 Choosing the right waist trainer size
When you are buying a plus size waist trainer, then it is highly important that you get your size correct. This means that this way, your waist trainer will be comfy to wear all day, but also it will be flattering for your figure.
To find your right size, you have to start by taking your waist measures. And this means you start by measuring the narrowest region of your waist (use a fabric measuring tape) and keep it leveled with the ground. This tends to be a few inches over your belly button… if you're not sure of this you can bend your torso to the side. The natural waist will be on the place you see it bending.
Now, you need to pull the measuring tape tight, but not super tight that you can't get a finger under it. Once you have that measurement (in inches), then you go to the sizing chart the brand provides you. Please, don't assume you are the same size as your normal clothes and that all brands will fit the same, so please follow their own tailored charts.
Always remember that when you're measuring yourself for a lace up waist trainer and once the laces are tightened, it's size will be corresponding to your waist measurement. Meaning that the size should be 4-5 inches smaller than your real waist measurement, if not, then your waist trainer will be too big. For a precise fit, go back to the sizing charts. If you're doubting or can't decide between two sizes, then always go up on the size. If it end being too big, you can tighten it further.
If your double belt waist trainer is too small, then you'll be uncomfortable and also won't be achieving the results you want. It's even possible you won't be able to wear it at all.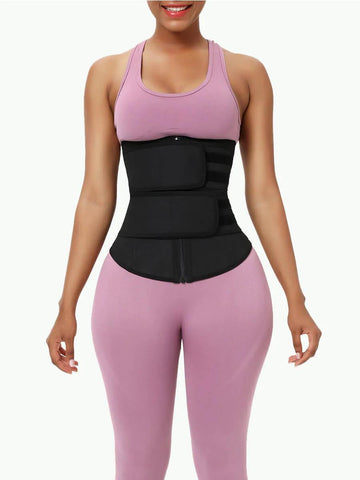 Choose the right material
The size isn't the only thing important when you choose your waist trainer. The materials that compose it, are equally important because they will determine how comfortable and effective they are.
There are two types of waist trainers. The most common ones are cincher. These are made of spandex and have plastic boning. And there are also the corsets, made of non-compressive material, such as cotton and steel boning, plus a lace-up back.  
As a plus size girl you can benefit from both types of waist trainers and the choice of what will work best for you, is actually entirely up to you. For example, the ones made from latex tend to be better for workouts and are also more versatile when it comes to wearing them underneath your clothing. These tend to be more comfortable than corsets.
On the other hand, corsets that have steel bones, will definitively give you a more dramatic curves and tend to be more durable. This type is generally chosen by plus size women because they have a specific fit, they won't lose their compression power and of course, they'll last way longer.
Now, if you take these two factors into consideration, then your choice of waist trainer will be a good one, but don't forget your own favorite style and that it's important that you invest in a brand that has high quality products.
If you're looking for results in the short term, like achieving a smaller waist or an hourglass figure for an important event, like for example, to wear under a backless dress, then we recommend you to look for a lovely backless shapewear, so you can look your best and also feel amazing wearing that lovely dress.