Buy Sculptshe Immediately, You Will Find Amazing Changes in Your Body
Buy Sculptshe Immediately, You Will Find Amazing Changes in Your Body
Did you ever sit yourself down as a woman and think about what to wear that will make you look stunning? If yes, look another way than sculptshe. It is an online store with different and many varieties of clothing and accessories that will make your outing or occasion a memorable one.
One of the best gifts a woman can give to herself is the 3 in 1 waist and thigh trainer reviews which we allow you to choose which of the products will be good for her and take care of her body and putting on what will bring out her hidden beauty, shape, and structure. Wear something that will make you look chic, simple, irresistible, and happy.
Most times, self-confidence starts from within. If what you wear in your inner part makes you feel good, then the outer part will be more attractive. The innerwear will boost the outer part of your body. Ensure you buy innerwear that will enhance your beauty, gives you self-confidence, make you look more attractive, and bring out your curves and shapes. 
Here are lists of some products that will make you look different from how people usually see you in the past. The product includes waist trainer, thigh trainer, shapewear, thigh trimmer, panties, sports vest, bodysuit, butt lifter, and many more. All these will bring out the best in you, starting from inner to outerwears. What you wear inner will tell more about what people will see in the outer part of your body.
Sculptshe 360 Lipo Foam Post Surgery Abdominal Board
Thigh trimmer: This will assist in shaping your leg, and you can also use it to shape your body or as gym gear. A thigh trimmer will help tone your thighs as the trimmers will increase sweat and heat in the thigh area during exercise.
Butt Lifters: It will assist the body to keep its natural structure and assists the skin and the muscles and skin to maintain its power. They ensure the buttocks maintain your confidence and good look.
Butt lifting shorts provide instant lift and change the physical magnitude of your curves. If you look yourself in the mirror wearing a tight dress or jeans, you will appreciate yourself more.
Panties: The underwear panties usually assimilate sweat and make yours under dry. Some underwear evaporates sweat quickly because of the material used in making them, such as polyester blends. When you wear lingerie, you have extraordinarily reduced the danger of acquiring crotch rot. 
The purpose of underwear for women is to ensure the vagina is smooth, clean, dry, and give comfort to the wearer. Wearing underwear has extreme excess benefits of hygiene in the body of women. It prevents bacteria from having direct access to the vagina or stay around the vagina area.
Shapewear: One significant gain of putting on shapewear is that you can avoid slouching. It is a known fact that good posture makes people look more convinced and attractive and has been medically proven to reduce the pain in your back, muscles, and body joints.
Shapewear cannot damage your organ because it is made of stretchy material. It will make you feel more secure, calm, and look elegant.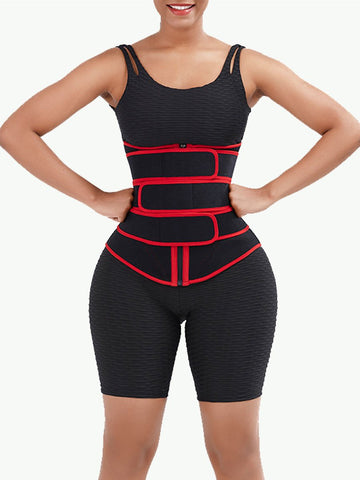 Sculptshe Three Belt High Compression Waist Trainer
Waist Trainer – A waist trainer will enhance your posture and provide good support for your back. It will help your stand up straight without the slouch. A woman must wear a waist trainer for not more than eight hours daily. By so doing, you will enjoy the smooth, slimming process in your body system. 
Today, many women have subscribed to wearing the double belt waist trainer since its benefits have been exposed to them. One of the benefits of a waist trainer is that you can achieve an hourglass figure quickly.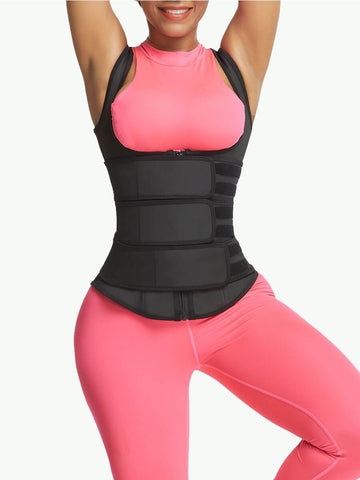 Sculptshe Latex Waist Trainer Sport Vest with Three Belts
If you choose to wear waist trainer constantly, you will get a good result in about a week. If an hourglass is your goal, then a waist trainer is the best for you. Waist training will assist you in drawing attention to your bust and hips curves and ensure they conform to an hourglass figure.