Best Plus Size Bodysuit Reviews
Best Plus Size Bodysuit Reviews
Shapewear isn't simple to come by, just like selecting the correct bra. Remember to look for shapewear that is comfy, breathable, and supportive without being confining while shopping for it. These shockingly comfy plus size waist trainers will make you feel stunning the second you slip them on, whether you're searching for shorts, bodysuits, or everything in between.
Shapewear has a love-hate connection with many of us. On the one hand, it may boost our self-esteem and make us feel like our best selves; on the other hand, it can make us feel constricted and rigid. Waist trainers for plus size women, in particular, have been known to exacerbate these issues in the past—until now.
Recent trends of some of our favourite brands have made these items more snug than ever before while still providing the contour you desire.
Having a solid framework for your clothing is essential for feeling great. So we've put together a collection of bodysuits, slips, and thigh shapers to help you look and feel your best.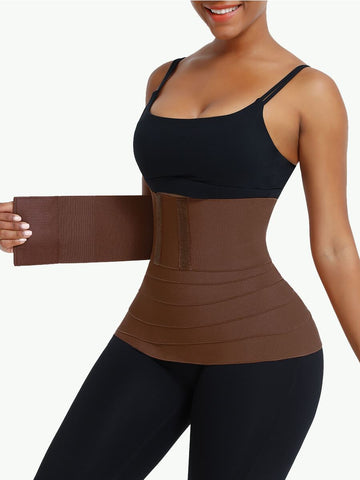 This is the ideal body shaper for burning fat and calories whether you're working out or simply sitting at home or at the office or going about your everyday routines.
With six high-quality velcro and loop closures, you may customise the tension to your preferences. It boosts your body's metabolism, which flattens your stomach and helps define your curves. It also grabs and slims the waist for a beautiful hourglass shape.
It helps to straighten your posture, support your lower back, and keep your belly tucked in and comfy.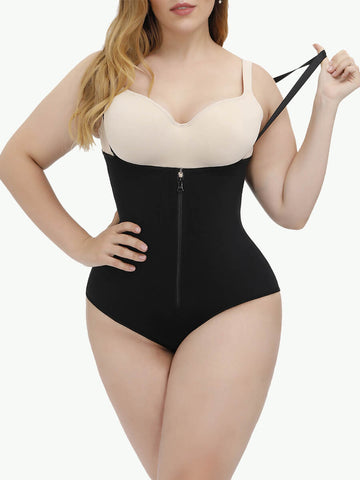 This daily bodysuit moulds and elevates your butt and chest while holding in your core. This shaping piece's whisper-soft, seamless fabrication and high-cut leg make it a must-have for accentuating your body's natural form. The open bust bodysuit offers an open crotch design for convenient restroom access and a bust design to combine with your favourite bra.
Its Butt lift may wrap and curve the hips entirely.
The crotch area has hooks, making it convenient to use in the restroom. The two adjustable shoulder straps ensure that you are always at ease.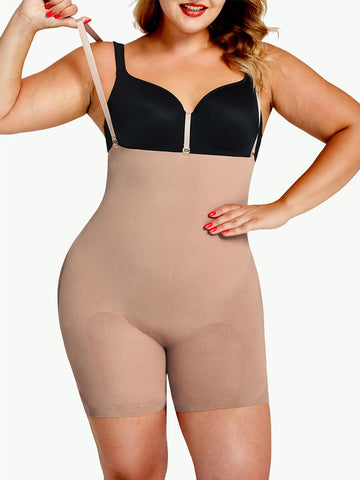 From form-fitting blouses and skirts to slim-cut jeans, it goes with everything. It's ideal for displaying your hourglass body beneath a provocative outfit. This shape wear is a must-have for achieving the perfect contours.
It is meant to be completely undetectable beneath your clothes while controlling and smoothing your stomach and thighs. This makes it the perfect waist trainer.  It also includes an open gusset to make toileting easy. It's soft and kind on the skin, as well as pleasant and breathable.
Finally, it improves the contour of your buttocks by sculpting the lines to show off your attractive curve.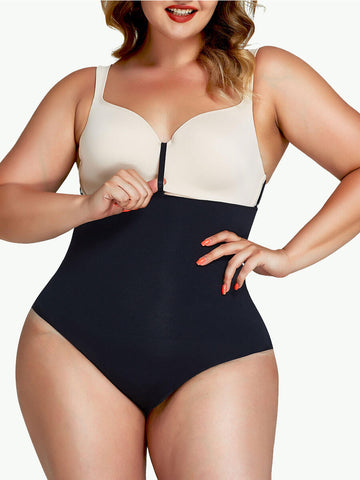 In this Slimming Belly Seamless Brief Panty, you may layer beneath dresses, slacks, and more without worrying about your lines showing through.
The brief panty is made of a skin-friendly, highly elastic waist trainer for plus size women that gives complete coverage without causing movement stresses, as well as a double-layer fabric on the belly area that provides powerful stomach control.
It also contains a non-slip liner and a glue strip to aid prevent slipping or rolling up when participating in activities.
Conclusion
Being a plus-size woman might provide unique challenges in terms of clothing, such as shopping, getting dressed, and fitting into new items. Be self-assured and proud of your gorgeous curves like the strong lady you are! We encourage the range of women's proportions at Sculptshe by providing waist trainers for plus size women with swimsuits that come in different sizes ranging from XS to 6XL.