A Comfortable Bodysuit Choice for Girls
A Comfortable Bodysuit Choice for Girls
Bodysuits are instant head turners as it's so snug, sexy and perfectly fitted on your body. You can wear this with a leather pants or a mini skirt, with a blazer on or just a simple vest. I love how bodysuits stay in its place no matter what movement you do so I don't have to keep on tucking in my blouse inside my pants nor fixing my outfit every now and then. When you sit down on a chair or bend over, you dont have to worry that your top is all over the place or your jeans is too low exposing your tummy or your butt area. With a bodysuit that functions as a shapewear too, you'll have the best of both world---function & style! Yes, believe it or not, this exists and I love it so much.
Light-colored bodysuits are perfect shapewears aside from them being invisible and seamless. I just love how smooth and sleek this all day everyday slimming bodysuit feels & looks. It's an instant confidence booster alright as it slims down my fats and speeds up my body's metabolism. The bodysuit targets your whole body. It's a 360 degree transformation where your problematic body parts namely the belly, waist, thighs and stomach are re-shaped. This bodysuit is ideal for everyday wear or postpartum recovery after pregnancy. It's super comfortable and easy to wear and has an overlap gusset when nature calls for easy access.
I love how my bodysuit sculpts, molds & defines my body like how a shapewear does the trick. It's really a matter of finding high quality & trustworthy Spandex or Elastane so it can stand the test of time no matter what shape or phase we are in. Light compression will always be more breathable and comfortable to wear to we can focus on the activities we are doing and still look awesome while we are at it. You can wear your bodysuit in the beach or even at boardroom meetings with your favorite blazer or coat on. You'll definitely be able to command the boardroom and be a scene zone at the beach when you flaunt an elegant bodysuit that hugs and flatters you in the right places. Who wouldn't be confident enough when you look this good?!
Shapewears help me hide my bulging tummy and gives my butt an instant lift that's why I always rely on a shapewear for a quick body-fix! No need for risky & expensive liposuction procedures that can cost me an arm & a leg to look more flattering. Shapewears are affordable investments with long term benefits and corrective mechanisms as it can improve our postures and give us an hourglass figure with consistent use.Wearing a shapewear gives me so much re-assurance and confidence as a woman that I look better compared to a minute ago when I wasn't wearing a shapewear at all. Check out the best shapewear for tummy and waist so that you can fit in any outfit of your choice. Yes, with Sculptshe, there is hope to sculpt your body by sizing it down  with the help of bodysuits that act as a shapewear too! So cool! My favorites from Scupltshe can be seen below: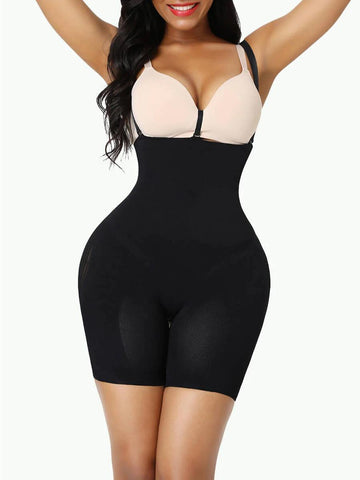 This high waisted seamless body shaper is a must-wear especially in tight body hugging dresses where you want to flatten & hide your bulging tummy and lift your butt more for a more flattering figure and aura. This can also smoothen and shape your thighs. I just love this body shaper from Sculptshe because it is so breathable and lightweight. Best of all, it's a very affordable investment as this shapewear doesn't get deformed no matter how many times I have already used it.
Wearing shapewears that are highly  breathable, elastic, non-irritable and skin friendly are crucial in our fitness journey. This will give us a more care-free and stress-free life as our movement won't be resricted as we move towards a fitter and leaner looking body. Choosing the correct & comfortable shapewear will make a lot of difference. It can either motivate us to keep on wearing shapewear or stop us from even wearing these shaping undergarments.
If you are not comfortble wearing a full bodysuit, worry not, as you can opt to just wear a waist trainer vest to focus on making your waist look more slender and more defined. Cheers to flaunting those curves soon! Remember, diet and exercise have to go hand in hand so you can be in your best shape ever. A shapewear can be a quick fix when you just can't seem to fit your old dresses anymore, but when you commit to living a healthier and cleaner lifestyle, you'll have a better body, a longer lifespan and a shape you can always be proud of.
Sculptshe Tummy Wrap Waist Trainer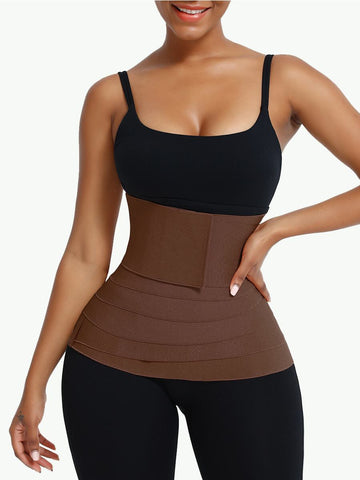 This waist trainer is so easy to wear anytime and anywhere so there is no excuse not to wear this. Burn your fats and calories in no time. Dedication and consistency are key to achieving the shape you've always wanted to have. Let your shapewear give you the body you want, Sculptshe will help sculpt those curves for you.