7 Benefits of Wearing Shapewear for Plus Size Women
7 Benefits of Wearing Shapewear for Plus Size Women
Wearing shapewear used to be an occasional task, especially when dressing up for really important events. However, wearing body shaping undergarments have become a fad in the recent years. It's merely a trend though because there may actually be benefits in wearing body shapers regularly. As plus-size women, find out more on how an everyday shapewear can benefit you mind and body:
Shapewear Redefines Your Curves
What are your curves to you? Are they something you're ashamed of? Or are they something just felt like you were forced to live with?
Your curves are what make up your form and physical entity. Every slope and every turn are all precious. Learn to accept the beauty of uncommon with the appropriate shapewear.
What does a shapewear do to a plus-size woman's body? It redefined your shape by bringing out the best of your body, and showing you that you've got an amazing and stunning form. Body shapers are not meant to make you look unrecognizable but rather they're meant to show off the charm of your form.
Sculptshe Full Body Shaper Butt Lifter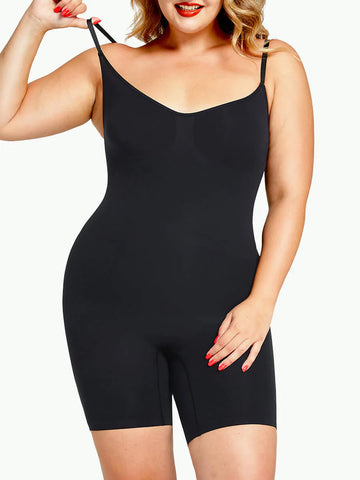 It Helps You to Avoid Overeating
It is common knowledge that when there's a certain level of compression in your stomach, or let's say you flatten your tummy on purpose using your abdominal muscles, that it's not inviting to eat a lot because instinctively, you know it would be uncomfortable. This is what the compression of a shapewear can subconsciously make you do. It tightens your stomach helping you limit your food intake.
Not all shapewear has the kind of compression that will help you avoid overeating though. In choosing a shapewear, you still have to gauge your comfort level. Don't get a shapewear to tight because you might find it difficult to breathe.
It Can Help Elevate Your Confidence
Pretty much everyone in this world has had an insecurity or two. Whether it's with your body, your face, the shape of your eyes, the texture of your skin, or the color of your hair, you might know what it feels like to be insecure.
With women, the most common insecurity are the fats round the stomach, and protruding fats in different parts of the body. If shapewear can help you dress comfortable and confidently, why not, right?
Body shapers don't permanently alter the size of your body, but rather help you dress using your favorite clothing without worrying about back fat, muffin tops or belly rolls.
It is definitely a confidence-booster to be able to present yourself without slouching due to insecurities. It is even indeed empowering knowing you can move, socialize, and smile with satisfaction and security.
It Can Give You a Comfortable and Secure Fit with Every Outfit
Not wearing anything underneath regular clothes except a basic bra and underwear, can be quite of a hassle sometimes specially if you're wearing a loose blouse, or if you're wearing a short skirt.
Clothing malfunction can happen anytime which is why it's always wise to invest in an all-in-one shaper that you can rely on for your everyday body shaping needs.
Sculptshe's seamless sculpting short features a smooth design soft to medium compression perfect for daily wear. It also has a bra hook so that it will blend your bra onto the shapewear for a smoother feel.
Sculptshe Seamless Sculpting Short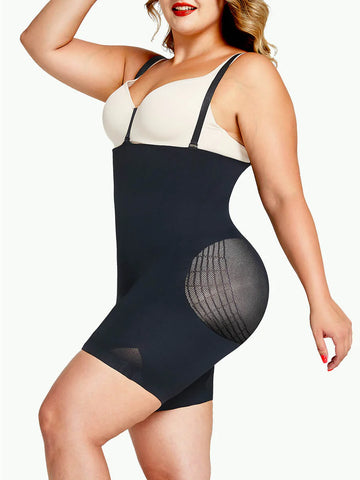 It Can Minimize Body Bulges and Body Rolls
Body bulges and body rolls are not bad. However, there are times you just want a smoother silhouette. With the appropriate shapewear, it's definitely possible to hide your fat bulge with medium to high compression level.
It's an All-in-One Undergarment
With shapewear, you can definitely ditch the old school underwear and switch to something with more functionality such as shaping panties or shorts, and open bust bodysuits that will not only cover your private parts, but will also slim you down with any clothes you wear.
Sculptshe Adjustable Straps Open Bust Bodysuit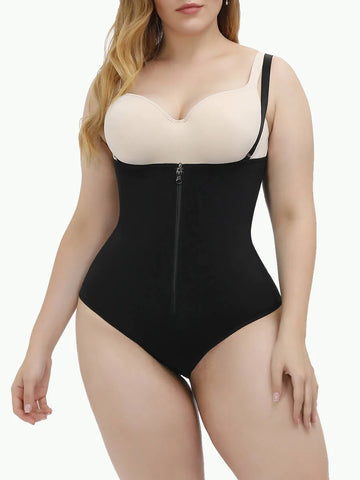 It Can Specially Help with Postpartum and Post Surgery
If you've just given birth or had a surgery recently, the recovery process can be quite painful hence it's recommended that you have post surgical compression garment assist your recovery and support weak muscles.
Plus-size women can definitely benefit from the compression and stomach support a shapewear can provide by minimizing pain from uncontrollable movements.
Sculptshe Post Surgery Compression Full Body Shaper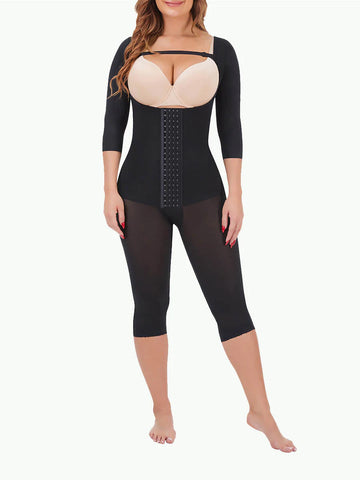 Being a plus-size woman is something that you should embrace and empower. Plus size doesn't always necessarily mean unhealthy. Sometimes, it just means you have a lot of love in your body. Wearing shapewear and waist trainer for plus size women is all about being comfortable in your body, loving your curves, and redefining every inch of your body through proper undergarment and body shaping garments.