5 Tips For Waist Training And Body Shaping That Will Empower Your Dream Body
5 Tips For Waist Training And Body Shaping That Will Empower Your Dream Body
Have you always kept to yourself the right attitude of not "giving up", especially since you're on your journey of losing weight and perfecting your dream body figure?
It should be a must! Losing your weight is not an easy feat to do as it comes with a lot of effort, hard work, and dedication. We will be honest with you as we know how it feels to lose weight but not gain the momentum that we want for our bodies. The frustration when we don't see any improvements in our body lingers down to our spine that pushes us to "stop."
Is it the right attitude in dealing with body waist training? No matter how motivated we are, there will come to a point that we wish we never should have started.
Well, it is normal if you're going to ask me. After all, we are all humans, right. The actual problem would be is the "act of giving up." Never should you ever try to stop doing things that you've already started? Keep pushing, strive harder and the said results will naturally follow.
Here are some tips on how you can be self-motivated with all the challenges you'll go through in losing weight. Cheers to the dream body that you're sweating up all day long with your best body shaper.
Choose To Wear Your Waist Trainer Every Day
If you're aiming to increase the results of your waist training, then you should regularly wear (everyday) your waist trainer. Be diligent and self-motivated when it comes to achieving the goals you want for your body, just like how motivated you are in every aspect of your life. Know that being "consistent" is the main factor of every success! You will never get the results you want for your body if you'll always miss wearing your waist trainer vest. The estimated or average time for a result-oriented waist training is wearing your waist trainer for at least 8 hours per day. If you're a newbie, your body needs to adapt first to the compression, so wearing your waist trainer bit by bit of a time each day is a good practice. You may start with 2 hours for your 1st up to 3rd day, then add more hours as the days progresses.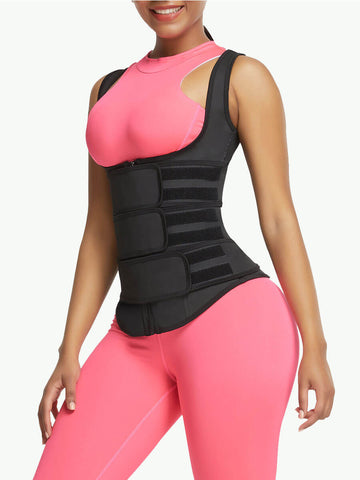 Sculptshe Latex Waist Trainer Sport Vest With Three Belts
Have Your Waist Trainer When Working Out
Wearing your waist trainer while working out is advantageous in getting all of its potential such as perspiration. On the other hand, wearing your waist trainer while doing your chores or even at the office may also result in good body shaping. Yet, what we are suggesting is to incorporate your waist trainer in your daily exercises. Of course, having a clear set of exercises to target your problem areas to easily burn your fats there using a waist trainer helps in getting the body figure you want promptly.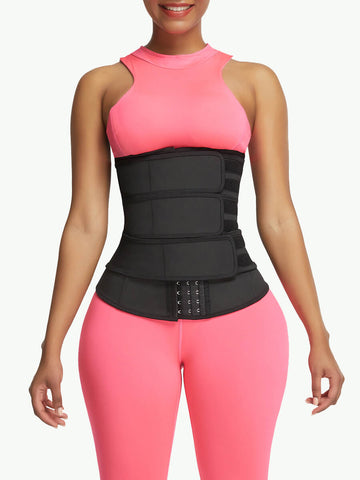 Sculptshe Triple Belts Waist Trainer With Hooks
Increase Your Chances Of Having A Great Body Shaping Experience Using A Different Style Of Waist Trainer
Trying out different kinds of waist trainers is an effective way of getting the most relevant body shape you want when doing your waist training. Being prepared by owning and rotating several waist trainers in your wardrobe will keep all your garments clean while allowing you the freedom to choose the dress you want to wear. On a side note, you can get all the benefits of every waist trainer in your possession such as its comfortability, effectiveness, and fabric. It also helps in keeping your waist trainer's life long which saves you the money and the hassle of buying a new one.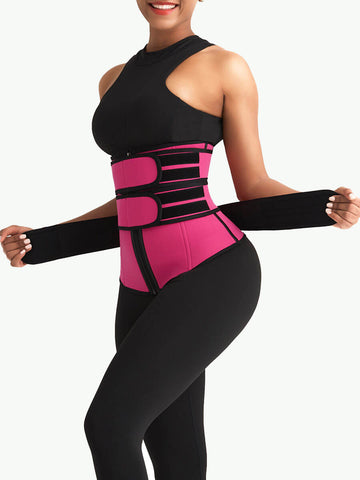 Sculptshe Neoprene Three Belt Big Plus Waist Trainer
Have Someone You May Call As A Competitor
Having someone that you can always talk to and compare with when it comes to your waist training journey gives an instant boost in your motivation to strive for better body shaping results. You may do this with your friend or someone in your immediate family that is also struggling in losing weight. Also, having someone to do your waist training regularly will never get you bored and makes the training more fun. The last thing that you don't want to feel is to get bored and be done with your waist training. It also makes you motivated as see your waist training as a competition rather than a necessity that is tiring each day!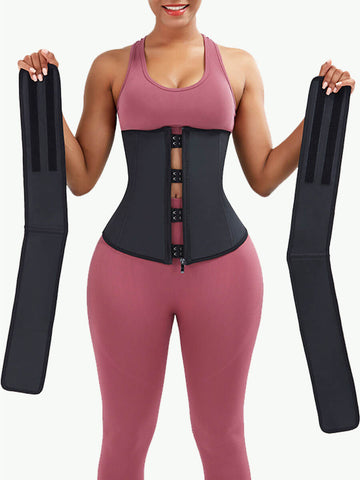 Sculptshe Double Belt 7 Steel Bones Firm Compression Waist Trainer
Have A Healthy Lifestyle
Let's be serious and honest here, so even if you're able to do all those things mentioned above yet failed to have a healthy lifestyle, you'll surely end up with poor body shaping results. Likewise, if you're able to have a healthy lifestyle while doing your waist training will exhibit positive body shaping results. Since you'll be sweating a lot while exercising using a waist trainer, it is always better to be "hydrated" all the time. How about your sleeping habits? Are you able to sleesp on time and schedule? This will help in keeping you energized for another day of waist training. Now let's see the foods you eat. Are you prioritizing low carbs while doing your waist training? Eating a well-balanced meal will help in losing weight as you become more cautious with foods you can and can't eat!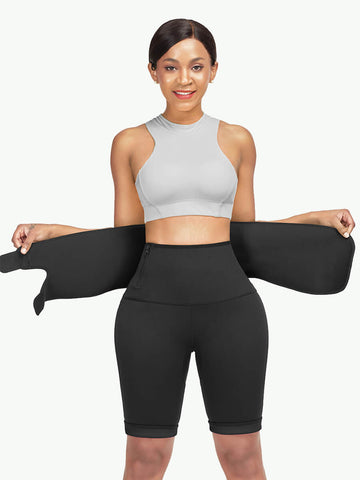 Sculptshe Neoprene High Waist Workout Shorts
IN CONCLUSION:
Don't wait for that motivation to come in before you can start your waist training. What if you lost that motivation that you're looking for? You'll end up doing nothing if you always depend on your emotions and that self-motivated situation.
If you want to have a healthier and perfectly coned shape body, then you must strive for it. Just do it! You'll soon realize that it is better to start things out rather than idling even for a moment.